Back to Blogs
A night to celebrate 21 years of the NI Children's Hospice
Publish Date:

Posted about 1 year ago
​Fourteen-year-old Madison Wright is set to surpass the £15k she has already raised for the Northern Ireland Children's Hospice with her biggest event to date!
A Gala Ball, marking 21 years of the Children's Hospice, will take place at Titanic, Belfast on Saturday 29th October. The black-tie event will be compered by radio presenter Cate Conway and will also involve a post-dinner raffle and auction.
As our chosen charity since 2014, VANRATH have paid for a table of ten nurses to attend the gala ball and enjoy the evening as a thank you for all the fantastic work that they do for the Northern Ireland Children's Hospice.
A former pupil at Central Primary School, Carrickfergus, and now attending Carrickfergus Academy, Madison was appointed the first-ever Youth Ambassador for the Northern Ireland Children's Hospice in 2020 in recognition of her extensive fundraising efforts for the local charity.
​
Madison first became involved with the Northern Ireland Children's Hospice when she became aware of brother and sister Noah and Gracie Coates who both suffered from the life-limiting, genetic disease Leukodystrophy.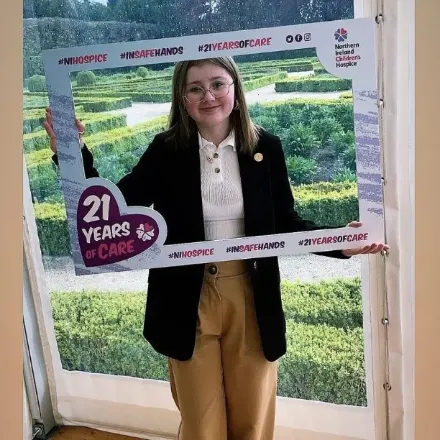 Speaking about her fundraising journey Madison commented:
'When I heard about Noah and Gracie's shared illness, I just felt I had to do something. With the support of my family, my friends, and my Primary School I started to organise coffee mornings and non-uniform days! I even convinced my Dad and his friends to wax their legs!
'Sadly Noah passed away in July 2019. The Gala Ball is dedicated to the memory of Noah and will take place on what would have been his 16th birthday weekend. My aim is to raise as much money as possible to make sure other children like Noah and Gracie, along with their families, can access the support they need.'
Barbara McKiernan, Managing Director of VANRATH added:
'We are delighted to support this amazing event by giving something back to the fantastic and dedicated nurses who do so much for the children and families that rely on the Northern Ireland Children's Hospice for respite and care.'
'Madison has been an absolute star in promoting and organising the entire gala ball; at just 14 years old she is a true inspiration to us all and I have no doubt that the event will be a huge success and raise even more funds and donations for the Hospice in what promises to be an fabulous night.'
The Gala Ball will take place on Saturday 29th October at Titanic, Belfast beginning with a Drinks Reception at 6.30 pm.
You can follow the event, keep up to date with fundraising and find out how to donate on Madison's social media channels
​