Back to Blogs
Tech Roundup: 29th September 2023
Publish Date:

Posted 2 months ago

Author:

by VANRATH
​
VANRATH rounds up the latest tech news and trends you may have missed!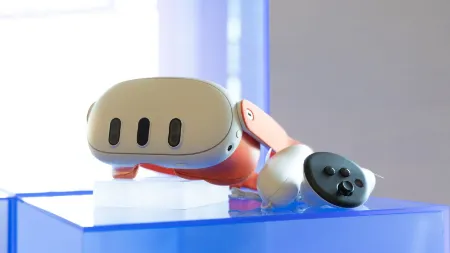 Meta unveils new generation of mixed reality headset
Meta has ramped up the race for our faces as it revealed the next generation of its wearable immersive tech products.
The headline announcement: a successor in the Meta Quest series, the Meta Quest 3, and a follow-up to its Ray-Ban Stories smart glasses.
Facebook's parent company claims the Quest 3 is 40% slimmer than its predecessor and boasts better graphics hardware.
World's most powerful laser to be built in UK with claims to be brighter than the sun
The world's most powerful laser will be built in Oxfordshire, thanks to £85m in new funding for the technology.
Scientists are aiming to develop the technology which will be a "million, billion, billion times brighter than the brightest sunlight" in the world.
It is thought the technology will have practical applications in nuclear fusion, renewable energy and batteries.
ChatGPT can now browse the internet access up to date information
OpenAI, the Microsoft-backed creator of ChatGPT, has confirmed the chatbot can now browse the internet to provide users with current information.
The artificial intelligence-powered system was previously trained only using data up to September 2021.
The move means some premium users will be able to ask the chatbot questions about current affairs, and access news. OpenAI said the feature would open up to all users soon.
X scraps tool to report electoral fake news
Reset.Tech Australia said the feature had been removed in recent weeks, except in the European Union.
The move has fuelled concern ahead of a key Australia referendum to give Indigenous people more rights as well as the 2024 US presidential elections.
Australian authorities say the spread of electoral misinformation is the worst it has seen yet.
TikTok shuts down secret operation to 'whip up conflict' in Ireland
TikTok has uncovered and shut down a secretive operation to influence Irish users and whip up social conflict. The covert influence operation (CIO) network comprised 72 accounts with a total following of almost 95,000 users.
The video sharing platform's work to find and remove the accounts was detailed in a report to the European Commission.
TikTok is a signatory of an EU code of practice aimed at combatting disinformation and misinformation online. The latest report covered the timespan from January to June this year.
Keep up to date with all our latest Blogs​, Tips, Hints and News here