Back to Blogs
Women in Tech: Female Trailblazers Leading The Way
Publish Date:

Posted 3 months ago

Author:

by VANRATH
​Meet
the local women shaping the Northern Ireland tech scene and beyond
In our ongoing Tech-sperts series, we've featured some of the brightest minds and trailblazers in Northern Ireland's technology sector. Today, we're shifting our focus to a special edition that shines a spotlight on the remarkable women who are not just breaking barriers but also setting inspiring examples for future generations.
Interested in a career in technology? We have new job roles from entry-level to senior and managerial positions live on our website - VIEW HERE!
Meet the wonder women who are leading the way…
​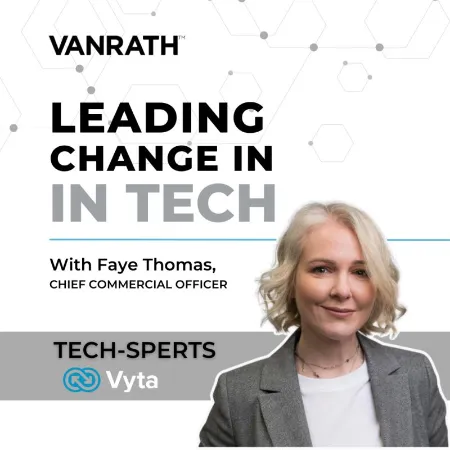 Faye Thomas: Tech Sustainability Trailblazer
Our journey into the world of women in tech begins with Faye Thomas, Chief Commercial Officer at Vyta. Faye's accomplishments in the tech industry are nothing short of extraordinary. She is a driving force behind innovation in Northern Ireland's tech landscape, with a specialisation in Secure IT Asset Recycling and Data Destruction.
But that's not all – Faye was recently honoured with the 'C Level Woman of the Year' award and the 'Green Impact Award' at the Women in Tech Awards 2023. In this exclusive interview, we delve into Faye's remarkable journey and her vision for the future.
Read Faye Thomas's full blog here
​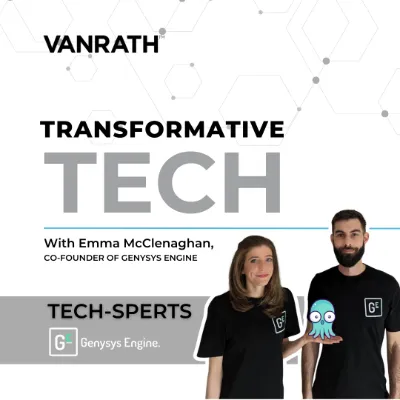 Emma McClenaghan: The Visionary Behind Wally, the gaming-changing AGI assistant
Next, we bring you Emma McClenaghan, a tech innovator who recently received the 'One to Watch in the Future' award at the Women in Tech Awards. Emma is the driving force behind Genysys Engine and the groundbreaking creation, Wally, the friendly website assistant.
Emma's journey hasn't been easy, but her determination and passion for technology have led to the development of Wally, which is on the brink of becoming the world's first AGI website assistant. In this inspiring interview, Emma discusses the challenges she and her partner, Matthew, overcame and the incredible impact their technology has on small businesses.
Read Emma McClenaghan's full blog here
​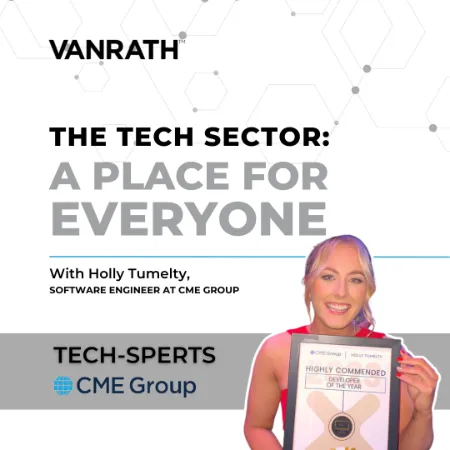 Holly Tumelty: The Non-Tech Trailblazer
Adding to our celebration of remarkable women in tech, we have Holly Tumelty, a Software Engineer at CME Group and the 'Highly Commended Developer of the Year' at the Digital DNA Awards 2023. Holly's journey from a non-technical background to excelling in the tech industry is truly inspiring.
In this Q&A interview with VANRATH, Holly shares her unique journey, discusses the qualities that set her apart, and advocates for young girls and women in tech, encouraging them to have faith in their abilities and make a difference.
Read Holly Tumelty's full blog here
​
Anna McCartan: The Data Science Wizard
In this latest addition to our Women in Tech series, we introduce Anna McCartan, a Data Scientist at KPMG, who shares her remarkable journey from mathematics to becoming an expert in data analytics and machine learning. Anna's story highlights the importance of soft skills, diverse backgrounds and seizing upskilling opportunities when venturing into data science.
Whether you're considering a career in data science or looking to advance your tech career, Anna's experiences and expertise offer valuable insights.
Read Anna McCartan's full blog here
​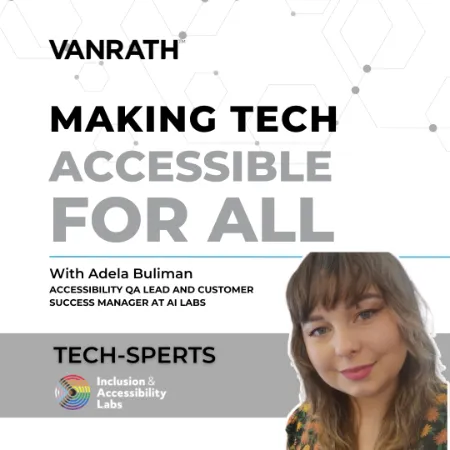 Adela Buliman: The Accessibility Advocate
Meet Adela Buliman, Accessibility QA Lead and Customer Success Manager at Inclusion and Accessibility Labs. Adela's role revolves around ensuring digital accessibility for all, bridging the gap between customers and quality assurance.
In this guest blog, Adela discusses the importance of digital accessibility, the barriers people with disabilities face on non-accessible websites and the significance of adhering to the Web Content Accessibility Guidelines (WCAG). She also sheds light on the legal requirements for digital accessibility and shares the results of a digital accessibility survey conducted in Northern Ireland.
Read Adela Buliman's full blog here
​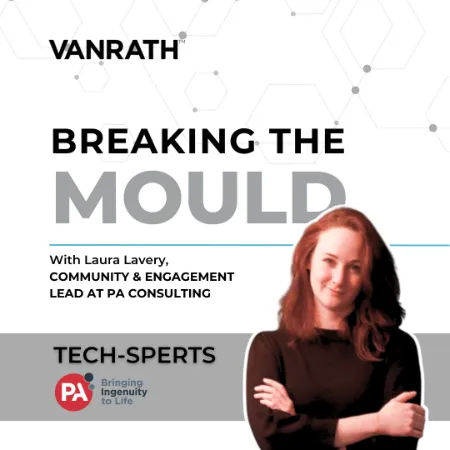 Laura Lavery: The Culture & Diversity Champion
Our celebration of remarkable women in the tech industry continues with Laura Lavery, Community and Engagement Lead at PA Consulting. Laura's journey from the hospitality and accountancy sectors to leading on culture and diversity in the local tech industry is nothing short of inspirational.
In this interview, Laura shares her experiences of embracing new career opportunities and the importance of being bold in a new industry. She emphasises the significance of different entry routes into the tech field and how getting comfortable being uncomfortable can open doors to unexpected opportunities.
Read Laura Lavery's full blog here
​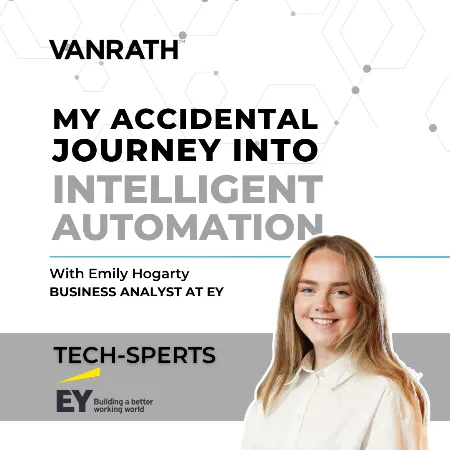 Emily Hogarty: The Accidental Data Scientist
Introducing Emily Hogarty, a Business Analyst at EY, whose journey demonstrates the versatility of careers in technology. Emily's path, which started with a background in Biochemistry and Bioinformatics, showcases that technology welcomes talent from diverse fields.
In her Q&A interview with VANRATH, Emily shares her accidental journey into Intelligent Automation. She began with aspirations of becoming a Cancer Researcher but discovered her passion for data science and analytics during her studies. Emily's transition to a career in tech is a testament to the opportunities available for those willing to explore and learn.
Read Emily Hogarty's full blog here
​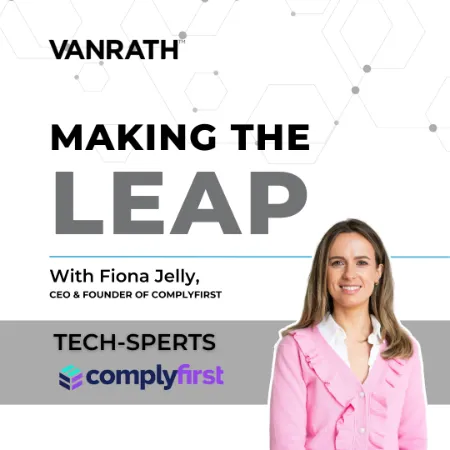 Fiona Jelly: The RegTech Innovator
In our ongoing Women in Tech series, we sat down with Fiona Jelly, CEO and Founder of Complyfirst, who embodies the spirit of innovation and adaptability in the tech world. Fiona's journey takes us from her legal studies to a thriving career in finance and ultimately founding her own RegTech business, Complyfirst.
Her transition from law to finance and her subsequent leap into the world of regulatory technology is a captivating narrative of one woman's unwavering pursuit of innovation. Dive deeper into Fiona's journey and the impact she's making in the tech industry.
Read Fiona Jelly's full blog here
​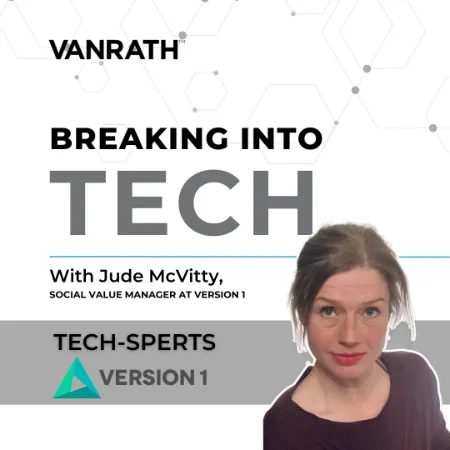 Jude McVitty: The Social Value Advocate
In our Women in Tech spotlight, we caught up with Jude McVitty, the Social Value Manager at Version 1 and last year's winner of the 'Returner of the Year' award at the Women in Tech Awards. Jude's exceptional journey into the tech industry is a vivid testament to the transformative power of determination and adaptability.
Jude's story is an inspiring narrative of personal and professional growth, making her a true trailblazer in the tech world. Read all about Jude's journey back to work and her impactful role in technology and social value.
Read Jude McVitty's full blog here
​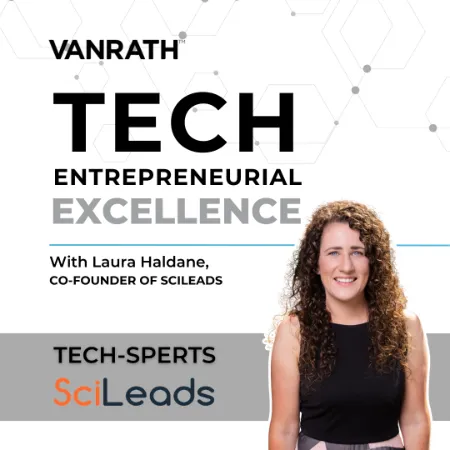 Laura Haldane: The Excellent Entrepreneur
Laura Haldane, was recently awarded 'Entrepreneur of the Year' at the Women in Tech Awards 2023 and is Co-Founder of one of the fastest-growing Tech Companies in Northern Ireland, SciLeads.
Laura's entrepreneurial journey began at a young age, inspired by visionaries like Richard Branson. She's set up multiple ventures throughout her life, with SciLeads being a remarkable success story. Laura's ability to identify opportunities, build great teams and create a flexible and inclusive work environment has been instrumental in her entrepreneurial journey.
Read Laura Haldane's full blog here
From pioneers in secure IT asset recycling to transformative tech visionaries, software engineers, data scientists, accessibility advocates, and champions of culture and diversity, these women exemplify the diversity and impact of women in tech. Their stories highlight the importance of innovation, adaptability and resilience in a dynamic world of tech. As we celebrate their achievements, we're reminded that the future of tech is brighter and more inclusive because of our extraordinary local women.
Interested in a career in technology? We have new job roles live on our website - VIEW HERE!
Our team of specialised IT consultants can help with everything from interview tips to CV advice and landing your dream job! Do not hesitate to get in touch today at or send your CV to hello@vanrath.com
Keep up to date with all our latest blogs​, tips, advice and news HERE!​